Value Survey 2005-2010
Due to the trailing nature of property tax assessments, this year will be the first year that property tax assessments should go down in value, reflecting the depressed economy and downward trend in values our market has experienced.  We intend to use the value survey we complied last year as one of many tools for seeking lower values.  A copy of that survey can be obtained here – http://www.canteraconsultants.com/CCA-Survey-07092010-v8plusJournalArticle.pdf .
Notices of Value
County assessors across the state are starting to mail out notices of value to property owners.  Bernalillo County will be mailing there's out on 4/29 or 5/1 with exception to multifamily properties in Bernalillo County which will be mailed out on June 15th, 2011.  Sandoval County on 4/18,  and Santa Fe county on 4/15.  We have complied our list of every county assessor's office and updated their estimated mailing dates – a complete list can be found here –  http://www.toddclarke.net/?p=1176
Remember you only have 30 days from date of mailing to file a property tax protest.
We have an "app" for that
If you are trying to determining if your value is "fair", consider downloading our 99 cent app from the iTunes store – http://itunes.apple.com/us/app/taxessor/id419811562?mt=8
Version 1 of the app takes the Bernalillo county resolved cases from 2010 and applies it to your property to help you determine what your value could have been.  Because 2011 is a revaluation year, hopefully these values will go down.  Version 2.1 of the app, can look-up your info from the county website and compare it to the potential value.
Property Tax Class – is on May 19th, 2011
This NMREC approved course is good for 8 CE credit hours and includes the above mentioned app and textbook and provides hands on training on how to handle your protest and covers our everything you need to "understand NM's Property Tax System" – course registration for the 5/19/2011 course can be made at – http://www.canteraconsultants.com/registration
If you need some light reading, how about our 320 page textbook?
Now in its 5th edition, the text walks you through the property tax process including calculating your bill, determining if you should protest, and provides case studies of formal hearings and claim of refunds. Available in PDF format for $39 or printed for $49 at  http://www.canteraconsultants.com/books .
Representation

Has your property tax bill gone up? Ready to do something about it?
Our firm, Cantera Consultants & Advisors Inc. specializes in reducing property tax bills.
Check out new app – Taxessor. This app for only 99 cents, will help Bernalillo County commercial property owners determing if their taxable value is within range of where it should be.
What to look for in a property tax consultant:
Success rate— we have won 97% of our client's cases!
Experience— we have protested over $1 Billion in commercial real estate.
Savings—our average savings for our clients is 22%.
No savings/ No expense—our fee is contingency based, if we can't lower your property tax bill, you don't owe us a dime!
Free property review—send us your notice of value or tax bill and basic building info and we can tell you the chances of obtaining a reduction.
Education—we wrote the NM Real Estate Commission approved course textbook—all 250+ pages on "Understanding NM's Property Tax System".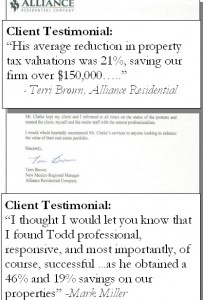 Interested? Have questions? Email Todd Clarke at tclarke@canteraconsultants.com or call (505) 440-TODD (8633)
All content and postings of this blog (except were an additional source noted) is (c) by Todd Clarke 1989-2011.