Bernalillo County is mailng out notices of value on April 1st, 2010 and the deadline to file a protest of value will be 30 days after that.
The remaining 32 counties have indicated that this is there mailing schedule: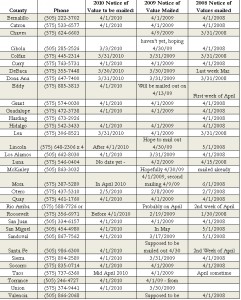 Our firm offers three options to assist you in property tax protests:
1. buy our 250+ page, fourth edition text book – click here to order for $49.
2. attend our "Understanding NM's Property Tax System" course on April 15th, 2010 – you can register by clicking here.
3. hire our firm to represent you on a contigency basis – email tclarke@nmapartment.com or call 440-TODD (8633) for more info.