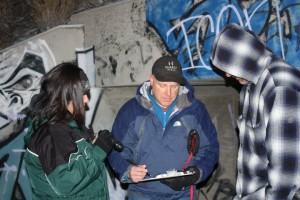 The Albuquerque Journal has an update on the homeless survey that was performed earlier this year.
As you may remember, I participated in the survey earlier this year, and was dumbstruck by the stories the individuals I met shared.
Although the focus on the article is about one individual who has made it into housing, then fallen out, and is working to get back in, the part of the story that left me the saddest was the number of people who have died since we surveyed them.
Those of us who own housing, who work in the housing industry must to more to help initiatives like the City of Albuquerque's Albuquerque Heading Home as well as non-profits like Metropolitan Homelessness Project and Joy Junction to eliminate homelessness.
(BTW, I should mention that Mayor Berry received the Humanitarian award for his dedication on this issue. Having been on his team, I can tell you his desire to eliminate homelessness involved a lot more than the camera time many people might have seen and the survey of the homeless quickly turned into an emergency plan that the Mayor and City Councilors funded to get people out of the sub freezing temperatures and in shelter).