Albuquerque, CCA, Consulting, New Mexico, Property Taxes, Santa Fe, Taxation Comments Off on Property Taxes – notice of values update for 2015
Cantera Consulants & Advisors has just updated its notice of value dates from each of the county assessors.
Please remember that you only have 30 days from the date of the notice of value to protest your property taxes.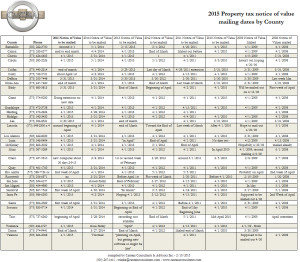 A PDF version of this table can be found here.
Todd Clarke @ February 11, 2015