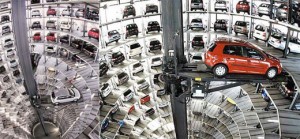 A good friend, developer, proffesor and author friend of mine, Chris Lienberger, wrote a fabulous book titled "Option of Urbanism" a couple of years ago. One of the items I was stunned to learn is that GM designed and presented their vision of a future metropolis – centered around cars.
Some sixty years later, many of our cities resemble that comment.
It is interesting to see how some communities are dealing with this issue by designing parking structures that don't resemble parking lots…
Thanks to Gizmodo.com for sharing with us this lot from VW and this automated lot in Russia complete with a photo gallery.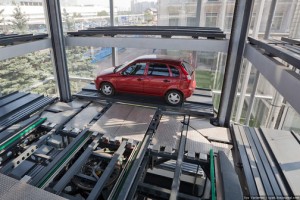 Those of you interested in Chris's book can purchase it here: