Albuquerque, Demographics, Homelessness, Housing, NM Real Estate, Social Issues, Todd Clarke Comments Off on First responses from 2011 Census of homeless – in ABQ they are finding housing.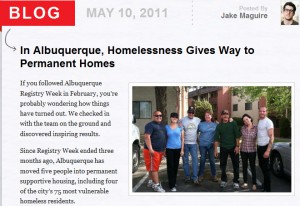 An update from our from the Albuquerque Heading Home homeless survey we helped with earlier this year.
This article at 100k homes indicates that the first 15 homeless people from that survey have found housing – kudos to the Mayor and the folks at Albuquerque Heading Home for making this happen!
Todd Clarke @ May 11, 2011