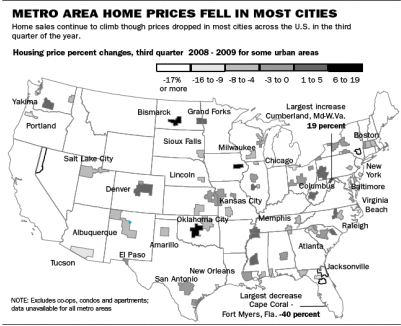 According to a story in today's Albuquerque Journal, 80% of this country's cities showed a decrease in home sales prices, but Albuquerque remained on an modest upward trend.
"Third-quarter data showed the median sale price in the Albuquerque metro area was $183,500 — up from the first and second quarters — but down about 5 percent off the sale price of $193,400 in the third quarter of 2008. "
The Greater Albuquerque Association of Realtors has also indicated that the volume of sales has increased by 40% over this time last year.
One of the things to take into account, is that this does not necessarily indicate that home prices have shifted that much, as local agents will tell you there has been a lot of activity in the under $250,000 price range, and little activity in the over $1,000,000 price range, which is more than enough to cause the median price to decline
Its unfortunate that GAAR and NAR don't do a same house comparison for appreciation/depreciation.