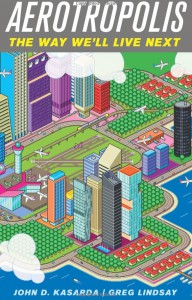 Aerotropolis, the way we'll live next
Authors: Greg Lindsay & John D. Kasarda,
Publishing Info: Farrar, Straus and Giroux, Nonfiction, First edition published March 1st, 2011
As an international instructor for the CCIM institute I discovered that the book, Aerotropolis: the way we'll live next dovetails nicely with what the just-in-time delivery model as a primary driver of demand for industrial space that we teach in the CCIM 102 course, I would highly recommend it to anyone in commercial real estate.
As a rabid book consumer, I will easily digest about 100+ books a year, and without a doubt, Aerotroplis: the way we'll live next has become not only my favorite book of this year, but one of my all time favorite business books. It is one of those rare books that I thoroughly enjoyed reading that I found myself moderating how much I could read daily so I can push the ending of the book out as long as possible.
My favorite magazine, The Economist recently offered a glowing review of Aereotroplis, stating "In Aerotropolis, John Kasarda of the University of North Carolina and his co-author, Greg Lindsay, convincingly put the airport at the centre of modern urban life."
The theme of the book is that successful cities of the future will be wrapped around successful airports and those cities that can't adapt may be passed by. Its authors state the books hypothesis as an equation related to time "The aerotropolis is a time machine. Time is the ultimately finite commodity setting the exchange rates for all the choices we make."
Author and reporter, Greg Lindsay, expands and expounds on the John Kasarda's original idea that airports are the highways of the future. As a former Fast Company and Wired magazine reporter, Mr. Lindsay racks up the frequent flyer miles talking with civic leaders, CEO's and company logicians as he interviews them on their home turf about the importance of air transit to their communities, companies or supply chains future.
As a fellow traveler, I reminisced about Mr. Lindsay's travels to well-known airports like Chicago's O'Hare, Atlanta's Hartsfield, Amsterdam's Schiphol, or even Hong Kong's International, but I was green with envy over his trips to Dubai's Al Maktoum International Airport or South Korea's Incheon airport and adjoining master planned Songdo International Business District. One story of Mr. Lindsay tracking his gift of flowers from the Aalsmeer flower auction in Amsterdam to his mother's front porch will endear Mr. Lindsay to the reader as an extremely diligent reporter and respectful son. Even more surprising than his few thousand mile journey for flowers was his mother's reaction.
Some of the books concepts in the book are eye opening such as "The world's urban population is poised to nearly double by 2050, adding another three billion people to places like Chongqing. We will build more cities (and slums) in the next forty years than we did in the first nine thousand years of civilized existence. The United Nations predicts the vast majority will flood cities in Africa and Asia, especially China."
Or this quote about South Korea "South Korea's capital is the archetypal twentieth-century megacity, doubling in size every decade or so since 1950 to twenty-four million inhabitants—the second most populous on earth after greater Tokyo."
Or my favorite quote about a Chinese based manufacturer: "We had barely crossed the border before he opened his laptop and began walking me through the true costs of those shipments. He'd built a widget calculating every conceivable variable: the weight, volume, value, and quantity of the products in question; the lead times for sourcing and building them; time spent in transit; their shelf life; the spread between paying his vendors and being paid himself; the cost of money in the meantime; and the cost of returns. An entire calculus, in other words, underlies the pivotal question of our era: What is the price of speed? The widget's answer: slow is more expensive. The only thing faster than a FedEx 777 Freighter out of Hong Kong is the velocity of money, and the last thing Casey wants to pay for are the days his parcels are stuck on a boat. Obsolescence sets in the moment they leave the factory. "Revenue evaporation," he calls it. "Air freight is key," he muttered while running the numbers. "We like to work with products that can go by air. We build them in Shenzhen, and they're in New York two days later. Time is often our number one currency, and the dollar is second." "
And this quote summarized the breath taking feelings I experienced in my many visits to China for CCIM's education program: "China is placing the single biggest bet on aviation of any country, ever. Even before the crisis and China's subsequent stimulus, the central government announced as part of its Eleventh Five-Year Plan that it would build a hundred new airports by 2020, at a cost of $62 billion. The first forty were ready last year. The vast majority lie inland, hugging provincial capitals and secondary cities bigger than any in the States. Full-scale aerotropoli are planned for China's western hubs, Chongqing and Chengdu, and its ancient capital. Besides airports, China laid as many miles of high-speed railroad track in the last five years as Europe did in the last two decades. The trains, in turn, are meant to keep people off the highways, to which China's adding thirty thousand miles—enough to eclipse the American interstate highway system. China's planners have internalized the lessons of America's Eisenhower-era infrastructure boom, designing a world-class system for moving people and goods quickly, cheaply, and reliably across any distance, whether locally by highway, regionally by rail, or globally by air. The plan is to pick up and move large swaths of the Delta hundreds or even thousands of miles inland. There is nothing to stop them.
And this quote on where the future global cities will be "Finding another five hundred million passengers 7should be easy. China has anywhere between 125 and 150 cities with populations greater than a million. The United States has nine; Europe, thirty-six. When the first phase of China's airport-building boom is complete, the number of hubs handling thirty million passengers annually—more than Boston's Logan or Washington's Dulles—will have risen from three to thirteen, all of which will be the host of aerotropoli. By the time they're finished in 2020, 82 percent of the population—1.5 billion people—will live within a ninety-minute drive of an airport, nearly twice the number today."
The book dovetails nicely with some of my other favorite business reads like Marc Levinson's "The Box: How the Shipping Container Made the World Smaller and the World Economy Bigger" and Sasha Issenberg's "The Sushi Economy: Globalization and the Making of a Modern Delicacy" both of which deal with just in time delivery and creating new markets.
Additional topics addressed in Aerotroplis include Peak Oil vs. Peak Food, globalization as a tool to pull the poor into the middle class vs. the carbon footprint of globalization via air travel, and the true cost of air travel in both economic and environmental terms.
If you enjoy Aerotroplis as much as I did, you might also read the June edition of Southwest Airline's Spirit magazine as Mr. Lindsay has recently penned an article titled "Corporate Latter". In this article he builds on the concepts discussed in Aerotroplis and discusses how technology has allowed us to shift away from being tied to an office, setting up shop at any location (http://www.spiritmag.com/click_this/article/the_corporate_latter/) . One economic development guru and author, Mark Lautman, is pushing this idea as the next evolution of cutting edge business recruitment – to scale down the benefits big corporations receive so communities can chase the highly mobile, quality of life comes first businessperson/consultant who eventually expands their business and hires staff. According to "When the Boomers Bail: A Community Economic Survival Guide", this segment of our economic businesses is one of the fastest growing.
Not only would I highly recommend you read Aerotroplis, I would encourage you to purchase copies to share with your family, friends and clients as the conversations started from the concepts in the book are engaging, enlightening and very relevant to anyone with commercial real estate.
Todd Clarke CCIM
Aerotropolis can be purchased at: http://www.amazon.com/Aerotropolis-Way-Well-Live-Next/dp/0374100195/ref=sr_1_1?ie=UTF8&qid=1306590616&sr=8-1