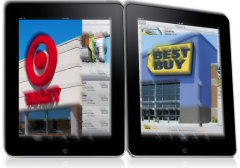 Within 24 hours of each other these two stories became headlines:
Apple announces their update to the iPad – the iPad2 and as part of Steve Job's keynote speech and presentation he indicates that 2010 was the year of the iPad, that its sales have outpaced anything they thought possible, AND, were due in large part to its retail stores.
The Wall Street Journal indicated today that most big box retailers are downsizing, subleasing or vacating their big box locations in pursuit of a better retail model.
The article goes on to indicate that it may have less to do with the size of the store than the quality of the experience and, in fact, the article mentions the "customer experience" of an Apple store.
From a CCIM market analysis standpoint, if retail big boxes truly downsize, we can anticpate a glut of retail to hit market in the next couple of years. If you haven't taken CCIM 102, and would like to be able to calculate the impact of this spatial change in your market, the course provides the tools and processes to help you calculate what this will do to occupancy, rents and values.